Thumbs Up News!
Welcome to this week's thumb scrolling news. Each week, I post some random news articles I encounter throughout the week on my mobile device. I then come here and share some of the more interesting news from my feed. All comic book related of course!
But first, in other news…
Well, I always seem to start with some other topics that scroll across my screen that is not comic book related…..so why stop now?!
(Insert sarcasm throughout) Trump is in the news again. What a surprise! North Korea is in the news again. What a surprise! China is still mad at us. What a surprise!
Conor McGregor faces multiple charges for the "bus incident". What a surprise! Okay, enough of being surprised, but seriously, If you throw a hand-truck through a window…well you're probably in a world of trouble. This a world class MMA fighter acting a fool here. He HAD the world by the nads and now he's gone and thrown that away because of his anger issues. Very bad PR move for Conor. Not a good look and it will cost him. Not so much in money, but in notoriety.
Claire Danes announced she's having a baby on the Howard Stern show.
8 x 10″ Ultra-PRO® Toploader. 8-1/8 x 10-1/8″ (inside dimensions). Made from 16 gauge crystal-clear, rigid vinyl. Holds an 8 x 10″ Image in a poly sleeve.
Steven Spielberg says he will cast the next Indiana Jones as a female lead. Any man who has an issue with this is clearly out of touch. A strong female lead is not only trending right now, but strong women leads kick as*. A new Indiana Jones movie with a female lead would be a fantastic and welcoming change to the franchise…..in my humble opinion.
Netflix wants to buy actual theaters. Aren't they the smartest bunch?!
AT&T defends their $85 billion dollar bid on Time Warner.
Wells Fargo will be fined $1 billion dollars.
Cuba has a president that is not named Castro.

The Mighty Comic Filing Cabinet!
Now…onto the real news!!!
The Black Panther movie has surpassed the Titanic movie. Regarding ALL TIME gross. Over $665.4 million. That's a whole lotta Marvel money. Well, Mickey money.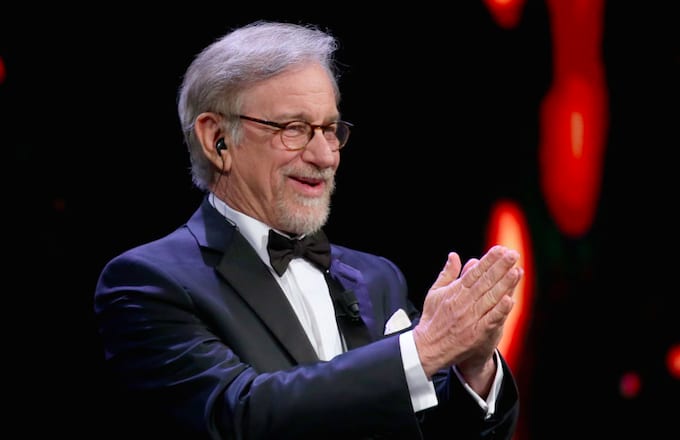 Hey, getting back to Steven Spielberg a sec. Rumor has it (thanks Adele for the song) that Steven will produce and possibly direct a DC film. Could you imagine this? The only RECENT movie DC has hit on is Wonder Woman. That movie was so on point it's beyond belief. So, you have Wonder Woman and then 'all of the other DC comic movies.' Again, RECENT movies. Now if Spielberg is involved in a DC movie, it'll probably kill in the box office because that what he usually does. So, THEN you'll have the Wonder Woman moves and the Spielberg movie as recent standouts. What to do then? Make only Wonder Woman movies and Spielberg directed DC movies? While a stellar idea to have Steven actually, possibly, direct a DC Comics movie would be amazing, it would probably be a one and done deal (maybe not) and fans will be left to always yearn for that extra 'punch' they're looking for in a DC film. DC movies need to simplify things. Character development. That should do the trick. Look at me, the expert all of a sudden.
Screenrant.com says that Stan Lee has completely denied elder abuse and threatens legal action. He made a video and everything. Things are getting very dicey on the Stan Lee front. Law suits, abuse, allegations, blood, checks, money…..too much. Stan needs to get to an island and just chill for a little bit. Get away from all of this stuff. And yes, blood. Reports from io9.gizmo.com state that Stan Lee's blood was stolen from Lee to make 'rare DNA' signed books. No really, I do not make this stuff up. Sick people in this world.
'No one believes Hawkeye is actually in Avengers: Infinity War'. I for one believes he's a goner along with some other characters. Lots of them. My choices are; Hawkeye, War Machine, Drax, Captain America and maybe Thor. Who are your choices of who gets offed?
Newsarama reports that Amazing Spider-Man #800 will bring back the black suit. Not only will it be back, but it will stick around for a 'while'. The best thing about this black suit is that Peter Parker looks awesome in either one of his duds. HUGE UNPOPULAR opinion coming up, brace yourself. Unlike that Superman guy with his red underwear look. Deny all you want. That's a silly, outdated, childish look. Comic books must evolve and not revert backwards because some fanboys or old timers get angry about change. The evolution of bringing in new readers or turning on new readers is a visual stimulation first and foremost. Marketing is won by the eye test first. If the eyes see red underwear, that's not conducive with today's market (trends). It simply does not work. Marvel characters have not sported underwear in years and they are doing just fine. So it shows that comic characters can evolve without the nuances of complaining comic fans wanting things to be 'nostalgic'.
11 x 17″ Original Comic Art Sleeve. 11-1/2 x 17-1/2″ 4 mil POLYESTER (Mylar). NO flap.
Artist extraordinaire Alex Ross had a couple of blips on the phone. Both from cbr.com. First, he recreated a ridiculously amazing Action Comics #1 cover as only HE can do. Then the more interesting article was Alex Ross explaining the difference between Marvel and DC heroes. Not that anyone needs an explanation, but it's always fun to hear a creator take between the big two.
According to cbr.com the Fantastic Four are back. Disney bought Fox Studios, so now fans will get their FF, Silver Surfer, X-Men, Wolverine stories again. The new Fantastic Four series will debut in August. The new creative team; Dan Slott (writer) and Sara Pichelli (artist).
Hollywoodreporter.com, reporting that the 'DC Nation' comic has received over one million orders. Really? That's a hard belief and calm from DC Comics. One million? Wow. Okay……
Writer Christopher Priest will leave fate in the hands of fans. The fate of whether or not Deathstroke is Damian's daddy. Hopefully fans vote for yea and not nay.
Comicbook.com posted a Dragon Ball Jim Lee sketch. Must have been a slow news day, but still a great sketch regardless.
Cbr.com asks the question 'What the hell is going on with the Flash movie?' Learn their take on 'development hell' when it comes to a movie. Essentially, we'll probably not going to see a Flash movie anytime soon or if ever at all.
6-7/8 x 10-3/8″ 2 mil POLYETHYLENE 1-1/2″ flap. Fits 1973-Current Comics.
The Red Goblin character continues to evoke an emotion in comic fans. As is Cosmic Ghost Rider, but I'm talking Red Goblin right now. An Amazing Spider-Man #800 variant will feature a Mark Bagley cover.
HOT PICS!!
Wrapping up this week with a quick look at last week's Trending Hot Picks #523.
Action Comics hits a major milestone. Action Comics #1000. That's even crazy to write. 1000?! So, yea, this actually happened on new comic book day. Supposedly there will be an introduction of a new character within the star-studded stories. Lots of creators in the industry contribute to this one.
Harley Quinn #42 will introduce readers to 'Old Lady Harley'. Writer Frank Tieri is killing it.
Amazing Spider-Man #799 continues the Red Goblin story. This issues leads into the historic Amazing Spider-Man #800 issue. It will be writer Dan Slott's final Spidey book in his long run.
A lot of cool indie comics are trending too, plus more from the big two. Be sure to check out Trending Hot Picks #523.
Thumbs up!
Carpe Diem,
Jay Katz
If you like 'Thumbs Up' check out vol.7
Trending Pop Culture is the new home for InvestComics LLC.
Make your NEW bookmarks.
InvestComics; The former number one speculative/entertainment comic book source on the internet.
Follow Trending Pop Culture on Facebook, Twitter, Instagram, Google+, Pinterest, YouTube and many other media outlets. Find us, we'd love to hear from you!
Be sure to visit www.trendingpopculture.com for new content all the time.
Contains dispersed molecular traps that remove and neutralize acids, pollutants and the harmful by-products of deterioration.