Thumb scrolling. News from my phone.
Welcome to this week's thumb scrolling news. If you're new here, this post contains some random news articles I encounter throughout the week on my mobile device. I then come here and share some of the more interesting news from my feed. All comic book related of course! …But I'll always give you a quick rundown of the "boring news" I came across first. Just to annoy everyone. Haha! Just kidding!
But did you know Disney is raising ticket prices? Really?? Their Marvel movies alone are making billions, what the hay?! They should lower prices, right? C'mon man.
And more Disney news, their streaming service will begin in the fall of 2019. More money for them! Hulk Hogan, remember him? He was Thunderlips in Rocky III. Yikes, maybe I aged myself. Well, he's considering a WWE comeback. Actually, he's not "considering", he really wants back to the WWE.
Fans of John Wick can rejoice because John Wick 3 was announced and has a May 2019 release date. Then you have Russia news, President news and more boring stuff.
7-1/8 x 10-3/8″ 4 mil POLYETHYLENE 1-1/2″ flap. Fits 1962-1972 Comics.
On to the comics!
U.S. Olympians are rocking Marvel superhero design practice suits. How cool is this? Avclub.com is all over this. Must check this out.
The first trailer for Venom hit on TMZ.com and boy does that look and feel different than anything else we've seen from Marvel. It has a feel of a sci-fi horror movie. Not that that's a bad thing, but just stating the obvious here, no? Tom Hardy looks very distraught throughout and that's a good thing. Having an alien symbiote attached to you like that, should make you feel uneasy. At least it would me! I'd be kind of psyched to have superpowers then quickly realize, wait a sec, this costume is alive? Ummm…..hmmmm…maybe I have to rethink this whole superhero thing. Especially this living, breathing organism that acts as my costume. Yikes.
DC's Joker in the Suicide Squad movie, played by Jared Leto, was 'okay". That's it, it was "okay". Do we really want the Joker character to be just….."okay"? The answer is a resounding heck no! You see, the two movie Jokers before Jared set the freaking bar so high that it's near impossible to live up to the expectation of the fans.
Jack and Heath. Yes, no need for last names here. So keeping that in mind, io9.gizmodo.com is reporting that Warner Bros wants to make a solo Joker movie starring….not Jared Leto!
The actor they're looking at is Joaquin Phoenix. Not a bad choice in my humble opinion. Great actor, has an edge about him, the look and….can act. So I approve and endorse this movie. Not so much a Joker solo movie, because really? Do we really need the Joker in his own two hour film? Not necessary, but no one will listen to me! They won't because at the end of the day, Warner Bros knows what they're doing better than I ever would.
Speaking of Joker, the new Harley Quinn animated series will include Poison Ivy, King Shark Clayface and more characters yet to be named. This reported from cbr.com. Looking forward to this series. It's going to be awesome.
Pointed out by comicbook.com, actor Colton Haynes tweeted out a cryptic message. The message simply said; #Nightwing. So naturally this set a firestorm of fury among fanboys alike. Lots of OMG tweets and replies to that tweet. Many asked the question, Are you going to play Nightwing? No answer from Colton. He's playing coy and that's not cool. Just kidding of course. But honestly, why tweet that and then go radio silent. Silly really. Say you have a major announcement soon, something. Leaving fans hanging like that starts things off on the wrong foot to win fans. Besides his coyness, a Nightwing movie? Not too sure I may feel the same way about this as I do about the solo Joker. Although having a Nightwing movie would be cool though, we never seen Dick Grayson in action as the bad as* he can totally be on the big screen. If done right, maybe the next "Batman" franchise could be born. A slew of movie spawned? Possible right? Imagine having Batman as a "guest star" as opposed to the main star. That would be different, no? I'd accept that. Mr. Wayne, take a seat.
From comicbook.com, Natalie Portman is open to the idea of returning the Marvel cinematic universe. I personally love this open idea because I totally dig Mrs. Portman. She's great in anything. The original Jane Foster can come back any time she well pleases…..she's Natalie Portman. Mathilda.
Also from comicbook.com, Marvel Comics posted an explanation as to why Thor is the only one who can pick up Mjölnir. Although as comic book fans we all remember Hulk, Cap and Superman being able to pick up that bad boy, but we're not talking about that, correct? Probably the movie.
Marvel Comics was in a giving mood this week. They also gave fans an explanation of the Black Panther family tree. The character does have a lot of players / family members within his surrounding's, so this tree is definitely a welcomed plant.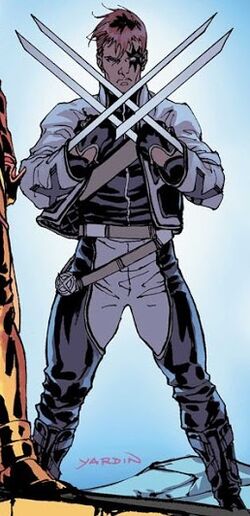 Uproxx.com reported a just in case you missed it article. And many did. Me included. The new Deadpool 2 trailer dropped and it had a team in it that so many fans overlooked. The X-Force will make an appearance in the movie. One character though was revealed from the team no one saw coming at all; Shatterstar. What's the odds of Shatterstar making the cut? Wow, that's out of left field, right? Many speculators are flocking to the New Mutants Annual #6 (pinup "first" appearance) and also New Mutants #99.
Brian Michael Bendis and Tim Miller are teaming up to make a movie together. Can you guess what film they want to make? Which X-Men character really needs their own movie? Angel? Colossus? No, no silly. How about Kitty Pryde? Yes, Kitty Pryde could be getting the nod here. Again, why exactly? This one makes the least sense out of all the movies so far mentioned in this post. No one, none of my comic fan friends are demanding a Kitty Pryde movie. Seriously. I'm sure it'll be very cool and prove me wrong, but right at this moment, I'm not a fan. I'm sure I will be, but I'll say no right now. And tomorrow. Maybe not on Saturday. Give me till Monday. The weekend, I can really mull it over in the cranium.
6-7/8 x 10-3/8″ 3 mil POLYETHYLENE 1-1/2″ flap. Fits 1973-Current Comics.
Sticking with the X-Men theme a minute here. Wolverine has been gone for a little while from Marvel Comic books over some sissy fight with Fox Studios. Now that Disney (Marvel) owns Fox, it's time to bring Wolverine back. A lot of teasers throughout several Marvel comics have fans buzzing as to how they will bring him back. Well, according to cbr.com, Wolverine makes his triumphant return in the form of a 4 issue mini-series event. Not exactly sure what a mini-series event entails, but for a "small name", it sounds big. Good to have Wolverine finally coming home.
IGN announced Marvel will celebrate Venom's 30th anniversary…..wait, Venom is 30 years old?? Wow, I'm seriously old. Okay so back to reality here. IGN.com says the 30 years will be celebrated with….wait for it…wait for it….variant covers! Yippee! What a surprise! Said no one ever. The special variants will start hitting on March 7th with the rest arriving by the end of the month. IGN shows off some of the covers, which consist of "famous" Venom moments as well as new covers altogether. Covers from Mark Bagley, Rob Liefeld, Ron Lim, Greg Horn, Jamal Campbell, Terry and Rachel Dodson, Bengal, John Tyler Christopher and MANY MORE. One glaring omission from this list, Todd McFarlane. That'll probably be the super duper extra special ultra rare $1000 variant. It'll be sweet though!
Actress Melissa McCarthy is in talks to star in the film "The Kitchen". The Kitchen was a DC imprint book. A Vertigo release in 2015. Just like with Natalie Portman, If Melissa wants to play in a comic book based movie, I'm in. I could care less what it is, I'm watching it. She's funny and an amazing talent.
Actor Zachary Levi tweeted out a picture of himself dressed in a heavy coat saying "underneath this coat I wear the Shazam costume." Oh really? Well why don't you show us then? What a tease! The fanboy and nerd culture is currently trying to dissect the picture to see if they can see through that coat. No success as of yet.
Newsarama shared an interview they conducted with the writer of the new series "Sideways", Dan Didio. Great interview here. First, I have to say, I read Sideways #1 and it was a lot of fun. Wow. I truly felt a Spider-Man vibe, but Dan Didio made sure to make this his own. Derek is the lead in the comic. What I learned from the Newsarama interview is that Derek is Puerto Rican. Awesome diversity going on here, loving it. The first issue didn't even touch on his ethnicity, so reading the interview informed me of this before I even read the debut issue. I also learned that Dan Didio will have legendary writer Grant Morrison coming on board a bit later in the series. Really looking forward to this. The character, the comic is really good and I'm seriously looking forward to where they take this character. DC's "New Age Heroes" is really shaping up well.
HOT PICKS!
Okay so let's wrap up last week's InvestComics Hot Picks #514. Titans #20 began "Titans Apart" part one by Dan Abnett and Paul Pelletier. Justice League Of America #24 brought the America's Best Comics character; Promethea into the regular DC Comics Universe. Some fans were not happy about this at all. Oh well….deal. A new Star Wars comic; Thrawn #1 from creator; Jody Houser and Luke Ross. Ms. Marvel #27, the debut of the Ms. Marvels team. Sideways from DC Comics, as I said earlier, this comic rocked. Loved it. Invincible #144 was the finale of the series. Invincible started way back in 2003. A fifteen year run. What an accomplishment. Very nice. Mark Millar's Kick-Ass is back with a new series.
See you next week as I continue to use these thumbs to get you some news you may have missed or have an opinion on.
Thumbs up!
-Jay Katz
If you like 'Thumbs Up' check out vol. 2
Jay Katz, a comic book collector since 1983, is the owner/creator of InvestComics LLC since 2005. InvestComics LLC was originally a magazine before the website launched in 2005.
InvestComics LLC is the number one speculative/entertainment comic book source on the internet. Their motto is: Invest wisely. Read comics.
Follow InvestComics LLC on Facebook, Twitter, Instagram, Google+, Pinterest, YouTube and many other media outlets. Find us, we'd love to hear from you!
Be sure to visit www.investcomics.com for new content all the time.